Empire Metal Supply

My father was an entrepreneur. He taught me the value of hard work and dedication. He built an impressive company in his lifetime, especially given his background. He supported four children and sent them all to college. He sold the company and was able to retire.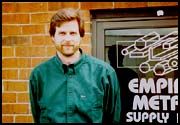 Empire Metal Supply was ahead of its time with the Internet and the world wide web. Amerimelt.com went online in 1996, one of the earliest websites on the internet and a leader in its industry.
My first job was stuffing envelopes for customer mailings as a teenager in the 1990's. I was later promoted to network administrator and set up a small network of MS-DOS and Windows machines.
The critical application was accounting. I remember the accounting system, from Peachtree, had specialized data backup requirements. I wrote scripts (*.BAT files) to conduct routine backup tasks. The media used were floppy disks and tapes.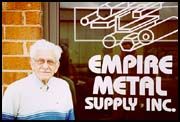 My father had a reputation for fairness and reliability in the tri-state area (New York, New Jersey, Connecticut). He served customers across a wide variety of industries from manufacturing to machining and construction.

He developed specialized products including Amerimelt®, a domestically produced alloy product, and Pluszero®, an innovation in sizing bars to a very high degree of accuracy for precision applicatioins.
Empire Metal Supply lives on under new ownership to this day. It is a legacy on Long Island and will continue to serve customers for years to come.